The links below will take you to the full text of some poems by Professor Joseph Heithaus.
DePauw Professor Joseph Heithaus will read as part of the James and Marilou Kelly Writers Series on April 11, 2012. Professor Heithaus's presentation will begin at 7:30 PM in the Thompson Recital Hall, located within DePauw's Green Center for the Performing Arts. The event is presented free of admission charge and is open to all.

Books with Heithaus Poems
Airmail from the airpoets
Call Number: DePauw Authors
And know this place : poetry of Indiana
Call Number: DePauw Authors PS571.I6 A53 2011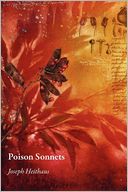 Poison sonnets
Call Number: DePauw Authors PS3608.E458 P65 2012
Rivers, rails, and runways
Call Number: DePauw Authors PS571.I6 R58 2008
Ruth Szpunar
Chat with a Librarian
Contact Info
I'm at the Reference Desk on Monday nights from 6:30-10 PM, on Thursday from 3-5 PM, and on Friday from 9 AM-12:30 PM. Feel free to stop by, or to send me an e-mail with a question.
Send Email